The Space: 1999 original soundtrack from 1976: let's take a look at all of the goodies that came from this first release.
There was a lot of Space: 1999 action going on with the cover of this OST. Let's produce a television score capturing some of the essence of the television show, put a couple of disco tracks for good measure and release it not only on the American market, but Canada, Turkey and Spain for good measure. But, let's not push it anywhere else, to include the UK where the show originated in the first place. I never quite understood that, but I was only 10 years old when this LP was released and back then, I really didn't care.
I routinely went shopping with my mother at the newly constructed "mall" in the town I lived in back then. I remembered asking her for the record and with every expectation, I thought I was going to end up getting the even more action packed record more-so than the one I ended up getting.
You see, I had my heart set on this one with the color logo and that amazing explosion that was basically shown on all of the main title theme of the show. I mean, look at that freak'in awesome Eagle on the back with that iconic lightning going up to it. That was awesome!! Well, I bet my mom probably got them confused since the Russell/Koenig cutouts that were used were almost identical. Even Starlog magazine of the day did a mini-article depicting this.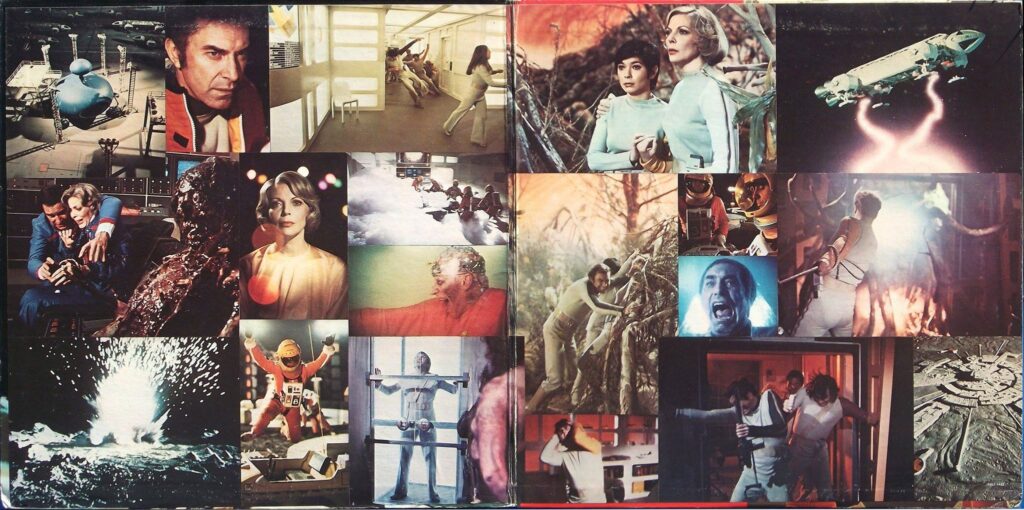 Nope! Come Christmas Day 1976, this was the one I got. Well, I was rather disappointed at first, but as I opened it and really looked at what I got here, the dissatisfaction quickly turned to excitement. Especially when I opened to that gatefold and all those action shots just resonated with me as if I were some kid in a toy store. The rest is history. I was sold. And for about 20 years, this was all we had to listen to until 1996 and that Year 2 promo CD was out there.
Not long after that wonderful Christmas, we made another trek to the mall for some shopping and I discovered a place called Camelot Music record store. And in that store was this huge Space: 1999 Eagle mobile and hanging from that was a double sided 12″x12″ album cover. And around the corner were a couple of gatefold posters taped to the side of the record shelves promoting the LP. It was Space: 1999 pandemonium. You can see these promotional items show up on eBay from time to time.
As with most audio releases back then were the 8-Track and Cassette tapes giving the consumer the choice. But, of course, having these didn't compare to having the vinyl due to the lack of the LP cover awesomeness that you would be entitled to. I bet a number of the audio tracks were cut mid-track going from one track to another on the 8-Track tape. Major "ew"! Sorry, no reel-to-reel release was ever produced.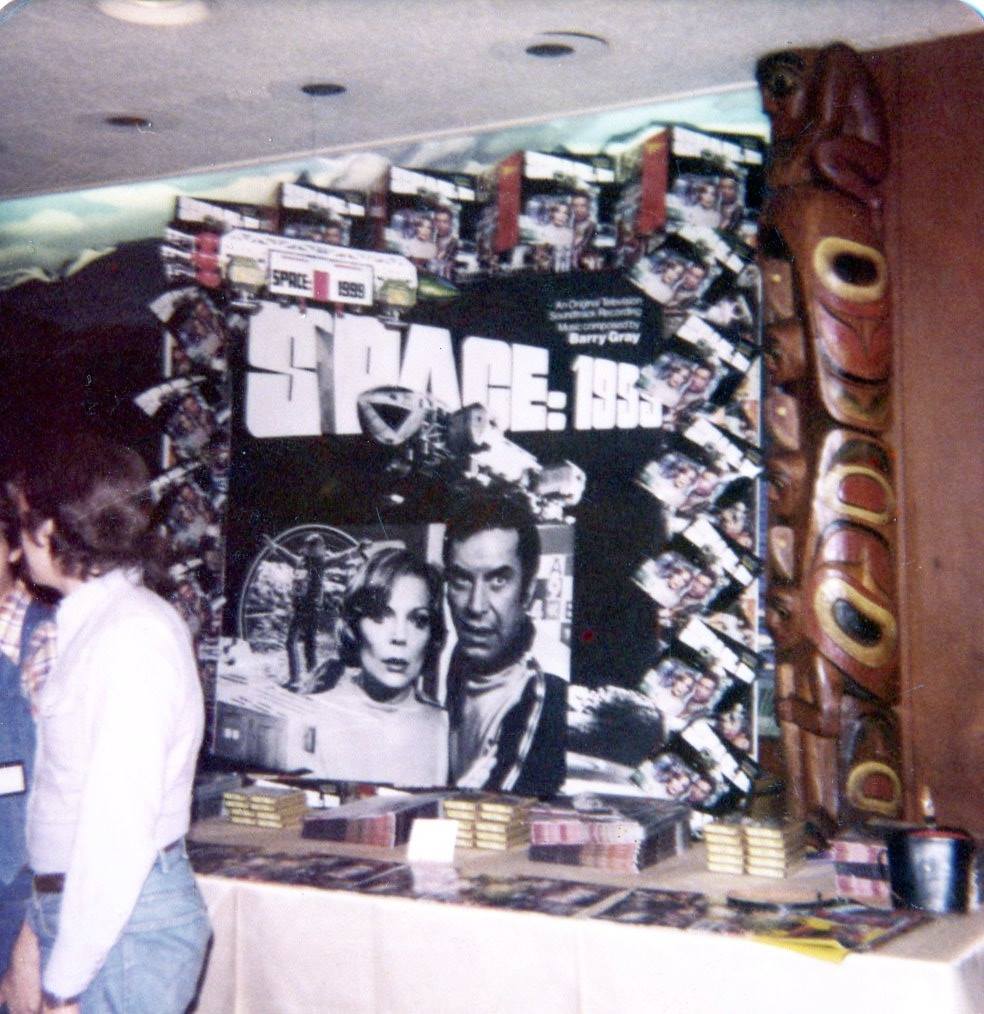 One of the more amazing displays at one of the record stores back then was captured by fellow fan Doug Pelton. If there were a multitude of posters made that big, I have yet to see one. The Eagle mobile (depicted there upper left) was rather large to begin with and it is dwarfed by that cover poster.
The Canadian release was a little different than its American counterpart, but essentially the same. It did have an interesting gloss on the cover which makes this one even more desirable.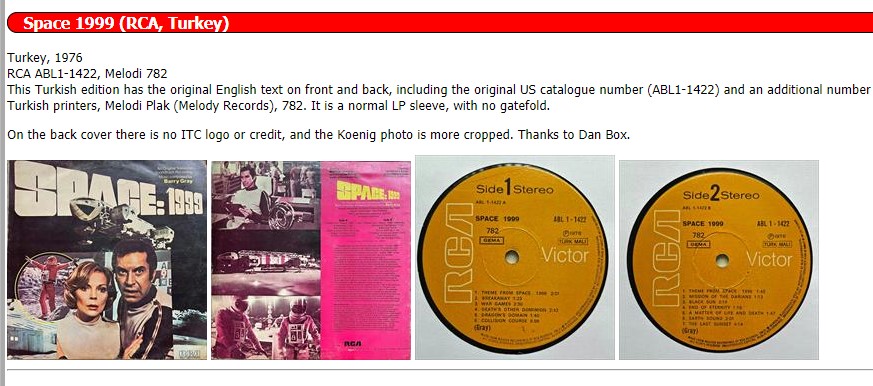 The Turkish release was also a bit different as the red on the back cover was more red-violet. Photo depiction is by Dan Box and was submitted to the Catacombs.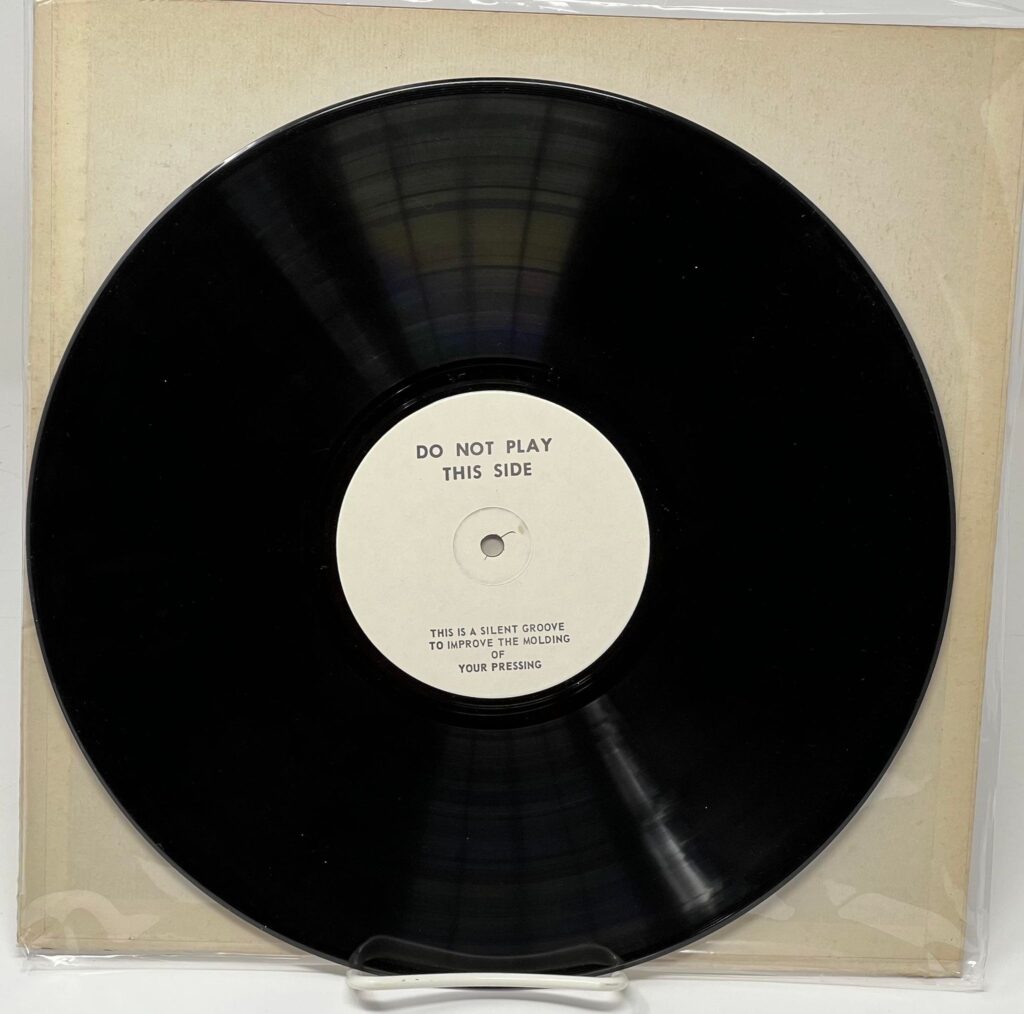 Got a couple of oddities from the release of this record. RCA maximized their marketing by releasing a promo '45 and a mass market '45. They even released a 12″ single sided single. I wonder if it is a remix. I haven't played it yet to find out, but maybe one day.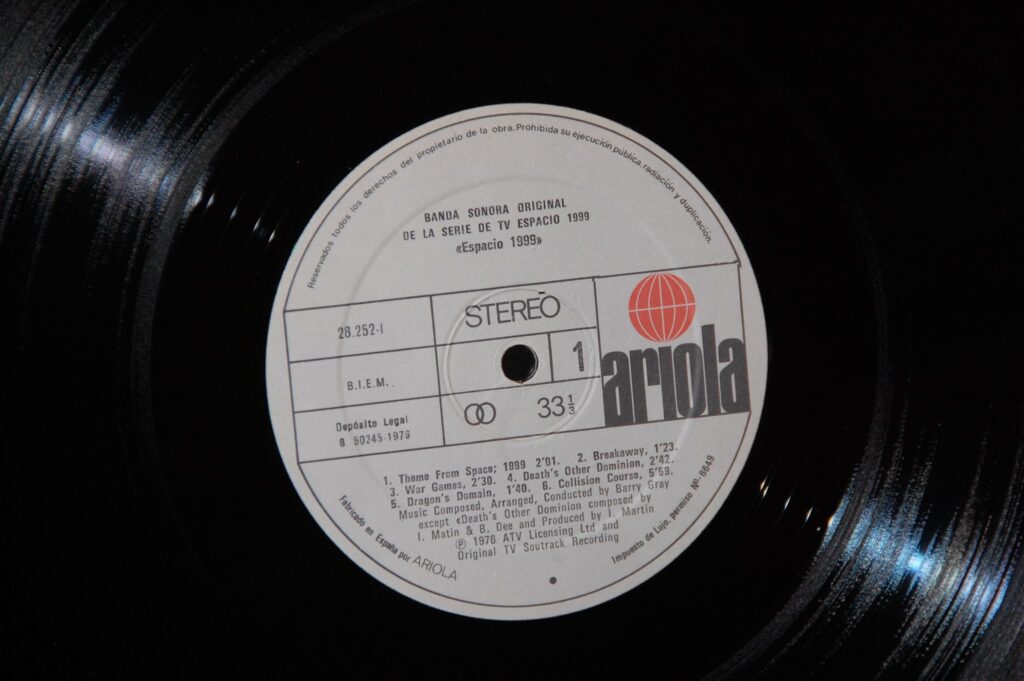 Perhaps the hardest LP to obtain is the Spain release of the OST. Released under the Ariola label, all the tracks are identical to the RCA counterpart. It has been reported that the sound quality is better than the RCA LP. The album cover is less than stellar but this release is highly sought after due to its rarity.
A not-quite-so-legal CD was released: by fans in 1998, limited to just 100 copies for Breakaway: 1999 convention. An additional track was Adagio in G Minor from Dragon's Domain. I managed to find this one on eBay some years later. The story was that this was recorded from a sealed LP to minimize the pops and maximize the quality of the tracks.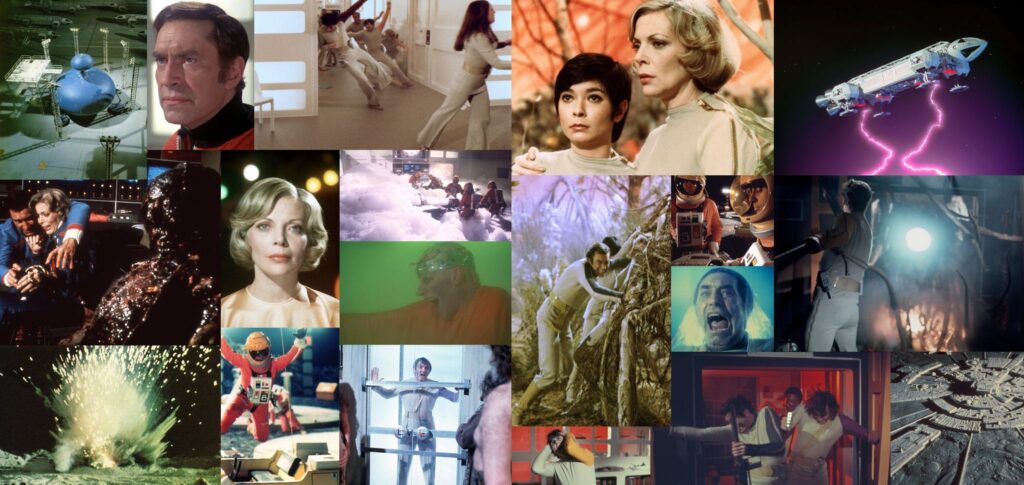 Well, over the course of almost 50 years, there have been a number of OST CD releases to our hearts' content, but the RCA LP will always have a soft spot in my heart, since this was the first, this was what we grew up with. Sure, there wasn't really a lot of Barry Gray's episode suites included on this, there were those silly non-1999 disco tracks there in the middle, sure the original main title theme was not what we heard on the show (what up with the extended version and the alt version on side B) but it was what we had and we were really lucky to have it compared to other shows out there. RCA and ITC really pushed the marketing on this for that wonderful one year. Ah, the good ol' days.