Back by popular demand, Round2/MPC released its Cargo Winch Eagle again.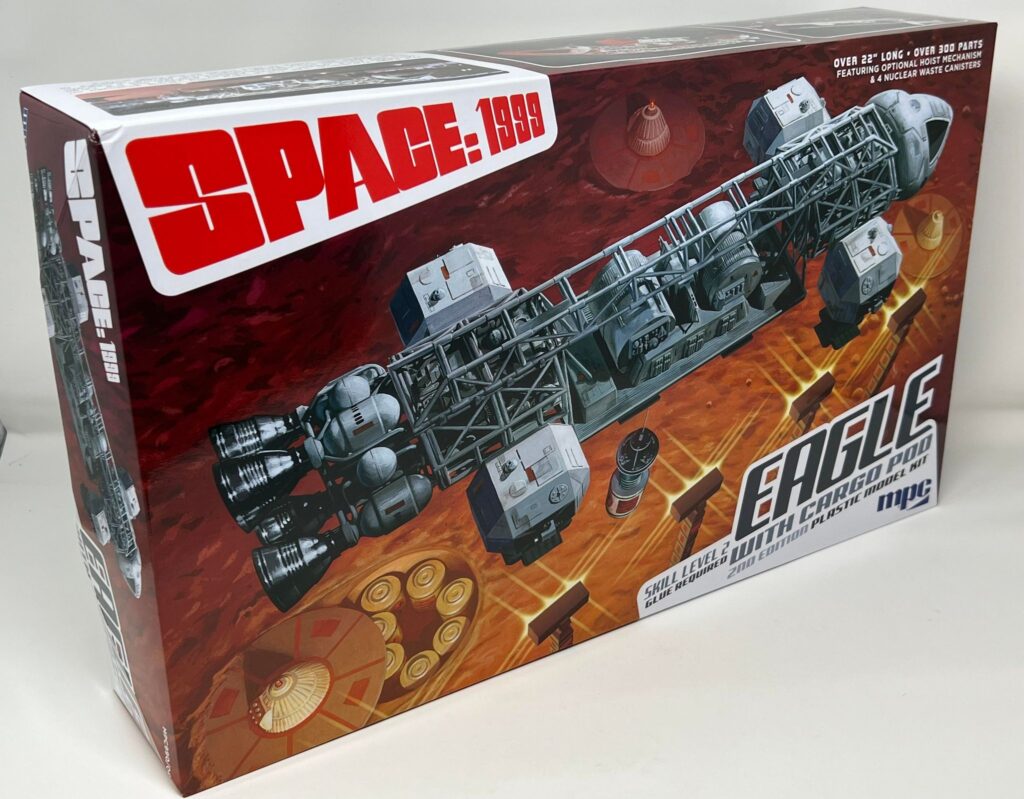 Hello, Alphans!! Lots to catch up with!! Round2/MPC made the initial announcement that three kits were on their way: the Moonbuggy, the 1/72 Metamorph Eagle (the Eagle 4 kit), and the 2nd edition of the 22″ Eagle with Cargo Pod (better known to us older fans as the "Eagle Freighter" from Breakaway). We kit builders/gawkers/collectors have been very excited when Round 2/MPC made the initial 22″ Eagle kit announcement at Wonderfest 2015. This was the very first time we fans were made available an accurate Space: 1999 Eagle Transporter kit. If you remember that in 2013/2014, MPC greased the skids by producing/releasing four classic kits as repops. Starting with The kit finally made it into our grubby hands in January 2016 and we were just blown away. The explosive popularity of the transporter kit's quality and accuracy had set the bar so high that it wouldn't take long for us fans to ask for other variants of the Eagle.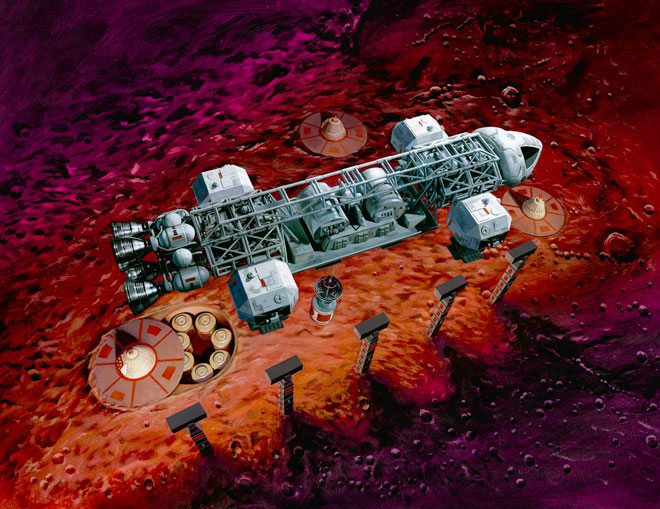 The second edition 22″ Eagle kit was the Cargo Pod edition. MPC also released additional kits to go with the Cargo edition, but unfortunately, the Area 2 kit and the Nuclear Canister accessory kits didn't sell that well. It was a shame, too, since all three "Breakaway" kits were amazingly produced. Shortly after about a year on the market, MPC pulled the plug on these three kits. Jamie Hood of MPC did an amazing job on the box art.
MPC kept the kits on the market for a while but ended up selling the them at a discount until the depletion of inventory; over about 4 years this kit was increasing in demand and folks that had unbuilt kits were commanding a hefty premium. There were a lot of builders out there that somewhat regret not picking this kit up in the first place. Well, Round2/MPC heard these stories so it was a no-brainer to release a second edition of the Freighter Eagle.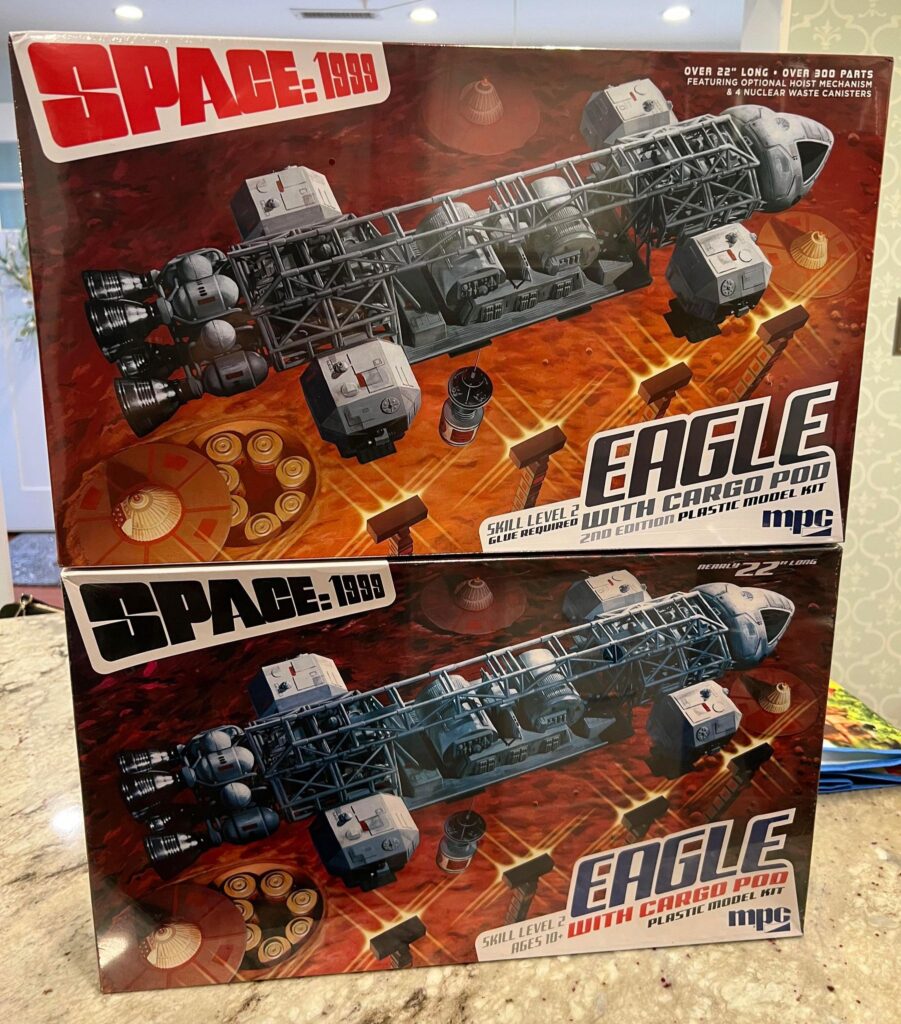 Aside from some subtle differences in the box graphics, the kit is essentially the same as the 2017 first edition. MPC leveraged the original Jamie Hood artwork and made a few necessary changes since the first edition box had advertising info promoting the nuclear canister and aluminum thruster add-on sets which are no longer available.
Showcased here is the amazing build by our remembered Tempe AZ Eagle Factory master builder Rick Robinson. He added the aluminum kit (and the aluminum Command Module sensors crafted by master machinist Mike Reader). This kit is nothing less than stellar and would make for a splendid addition to your collection or display.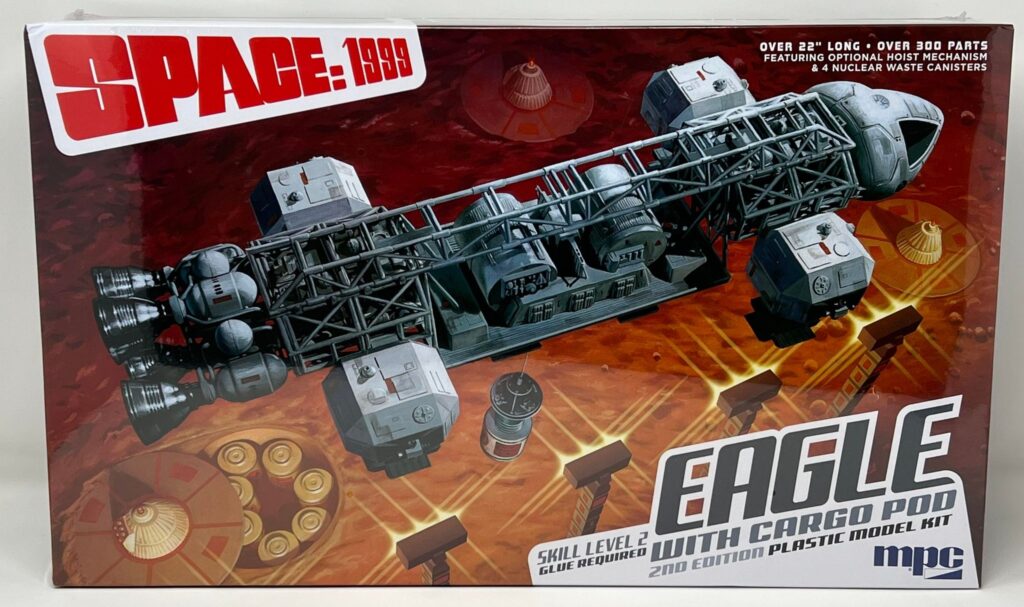 Would you believe that this Eagle kit marks the 27th Space: 1999 item that Round 2/MPC produced since 2014? Make sure you check in with your favorite hobby distributor for the release of the 2nd edition of the Cargo Pod Eagle kit by Round2/MPC (as they are apparently starting to show up). A huge thank you to Jamie Hood of Round 2 for allowing me to present to you the box opening.
Lots of amazing Space: 1999 kits to choose from. Ensure you visit the Round 2 Corp site for all the latest information. They will also be back at Wonderfest 2023 with their booth of all of their latest kits. The Facebook Group admins will be hosting an unprecedented Eagle Transporter display that you have never seen before. And with Nick Tate making his appearance there while Jeffrey Morris of futuredude.com will be filming/interviewing 1999 fans for his upcoming documentary "The Eagle Has Landed". Hope to see you there. One last thing, please visit Space: 1999 Catacombs for pretty much all things you ever wanted to know about Space: 1999. Links below.