If you haven't picked up a novel from Powys Media, then you are missing out. Since 2002, Powys Media has been producing licensed Space: 1999 novels and, quite frankly, they are spectacular new stories (and some revisits of other great stories) that were not a part of the canon Space 1999 television.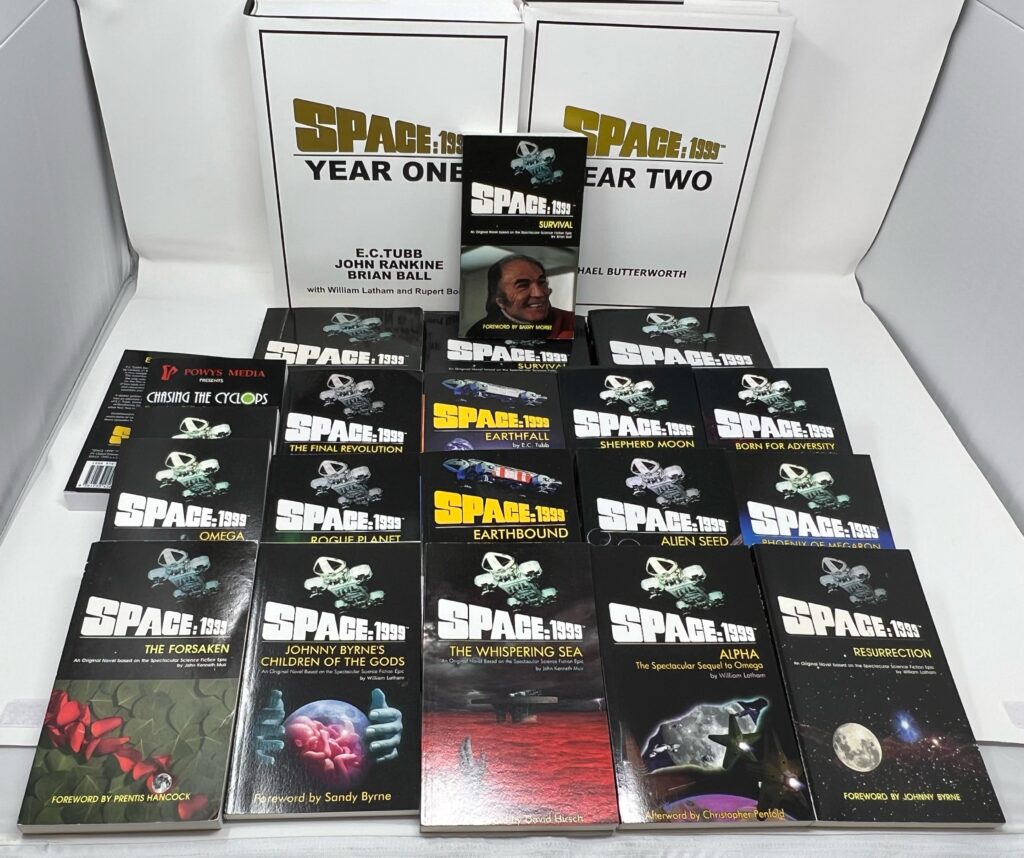 Over these last two decades, they have accumulated quite the library and most of the novels are actually available online through a print on demand site at lulu.com. Most of the books have a shared continuity; the "Powysverse", documented in the 2012 title "The Powysverse Compendium" by Patricia T. Sokol. The chronology includes the episodes (included in the Year 1 and Year 2 Omnibus books), original novels and short stories. Existing episode novelizations and original books by Tubb and Rankine were adapted to fit the continuity. Two books that are not included in the chronology, both re-published titles: "Earthfall" and "Earthbound".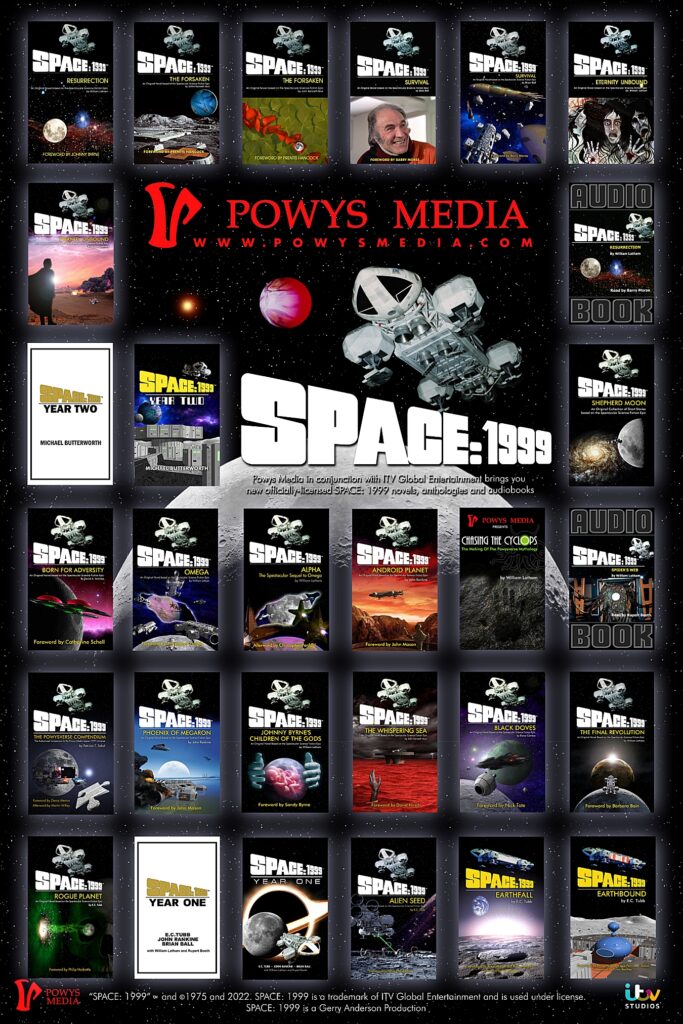 "Powys Media brings you a new series of officially licensed original novels that chronicles the epic saga of Commander John Koenig, Dr. Helena Russell, and the other inhabitants of Moonbase Alpha as they struggle to survive their journey through the depths of space, encounter alien civilizations rich and strange, and search for a planet on which to reclaim their humanity."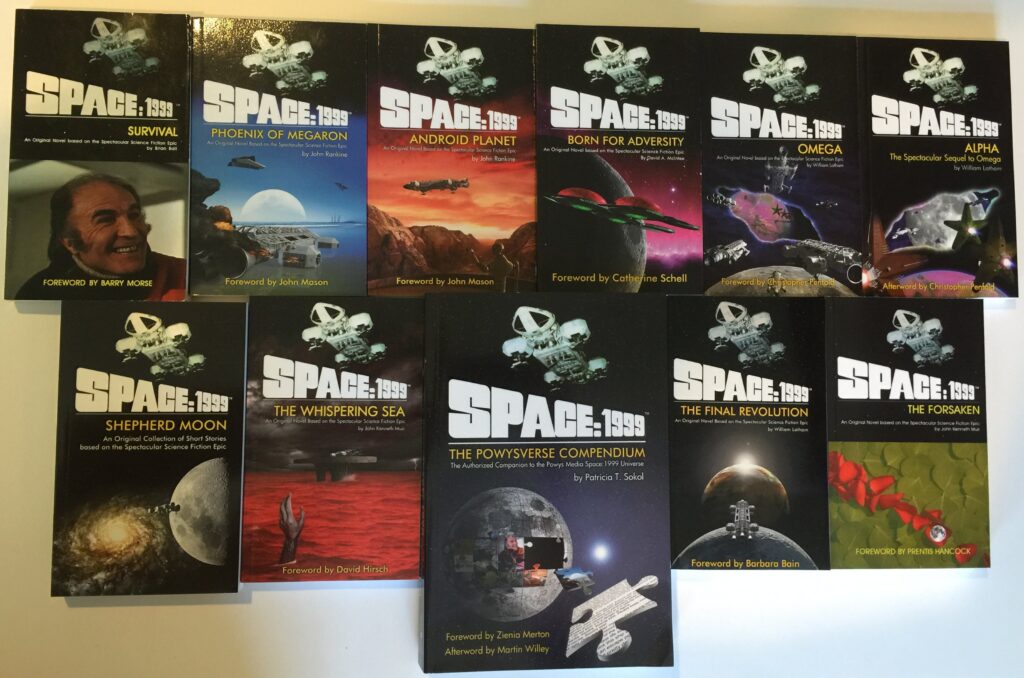 Better known as the "Powysverse", this was an idea that was conjured up by both William Latham and Mateo Latosa (the founders of Powys Media) to link all of the episode stories together along with some of these other original stories in the space 1999 universe. A number of foreword and afterword submissions provided by a several associated space 1999 stars and contributors to the television show from its inception to the afterlife of space 1999 merchandising in this collection that's been accumulated for the past two decades. Believe it or not, you have contributions from the likes of Barbara Bain, Barry Morse, Zienia Merton, Prentis Hancock, Catherine Schell, and Nick Tate to name a few. A definite "who's who" from the show in this line up.
There has been a lot of splendid ideas from some of the authors over the period of time and one that really sticks out is the story called "The Whispering Sea", which is a story about how Maya is settling in with the Alphans after she was taken from her now deceased, home, planet of Psychon written by John Kenneth Muir. Another book that was so expert produced was the Space: 1999 Compendium. From their website: "In 2002, Powys Media launched a literary continuation of Space:1999 through an ongoing series of novels, short fiction anthologies, and reimagined novelizations of the original episodes. The Powysverse Compendium guides you through that continuation, providing an in-depth analysis of each component of the Powysverse along with thought-provoking glimpses into the overriding themes and arcs moving through the series. Author Patricia T. Sokol, given open access to the Powys authors and editors, is your tour guide, revealing the component pieces of the Powysverse and providing a fascinating and authoritative guide—part encyclopedia, part literary criticism, and part roadmap—but offering a bold new work with its own voice, taking you into the deepest realms of this newest incarnation of a classic series." Shepherd Moon: an anthology of short stories featuring contributions by E.C. Tubb, Brian Ball, John Kenneth Muir, William Latham, Michael A. Faries, Stephen Jansen, Emma Thomas, and others.
We fans have been really fortunate with some of the other latest released productions. Mateo took interest in completing the 1999 library under the Powys badge by producing some rarities that were only available in the UK and through the Fanderson club. He graciously produced editions that are now available to the open public. Fans have long wanted both the editions of Earthfall and Earthbound. They commanded a high dollar amount on eBay or other platforms due to their rarity.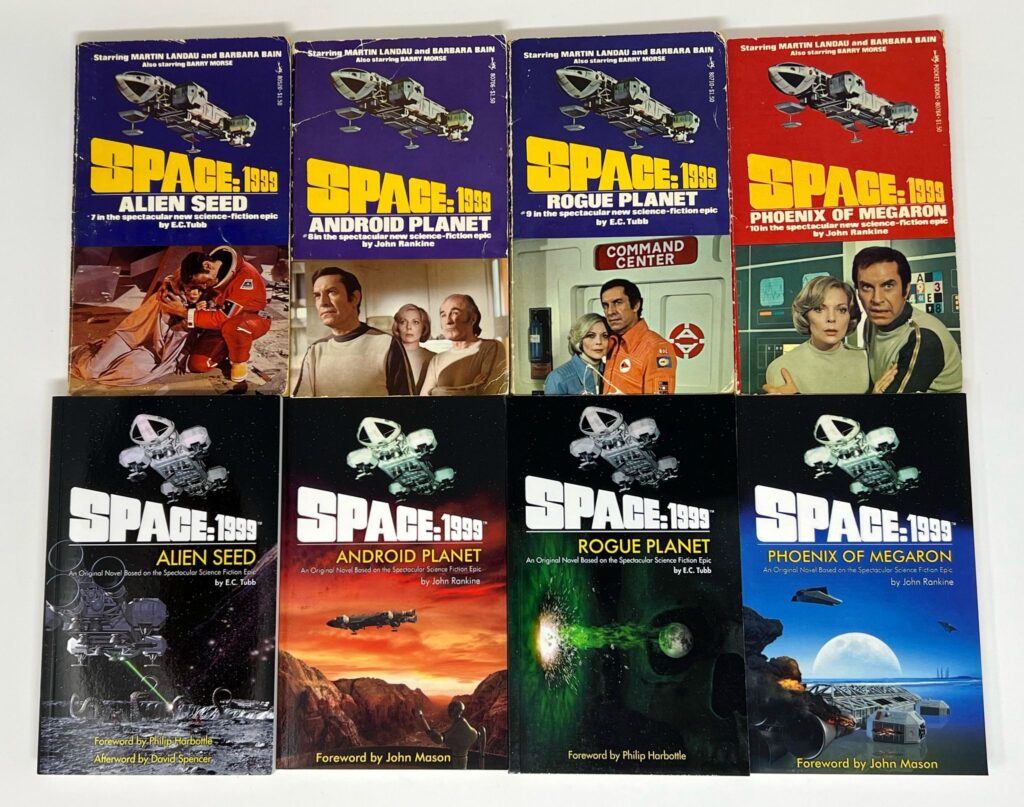 Other titles from the original year one lineup have been released: Phoenix of Megaron, Alien Seed, Rogue Planet and Android Planet. Original stories now incorporated into the Powysverse. A very nice touch to the overall library.
The Year One Omnibus was printed limited to some 200 copies. We fans were ever patiently waiting for some 15 years before we could get our grubby hands on one. The plan for the book was to get the three original authors to sign a collectible page (which Mateo did in the mid 2000's). Over time things happen and thank goodness he had the authors autographed the pages when he did. When the book was finally released, we fans now have the honor to not only own this uber-limited-edition book available to complement our Year 2 edition, but we would own a piece of history with the author's authentic John Hancock's. Would you believe there are a number of copies still available for purchase?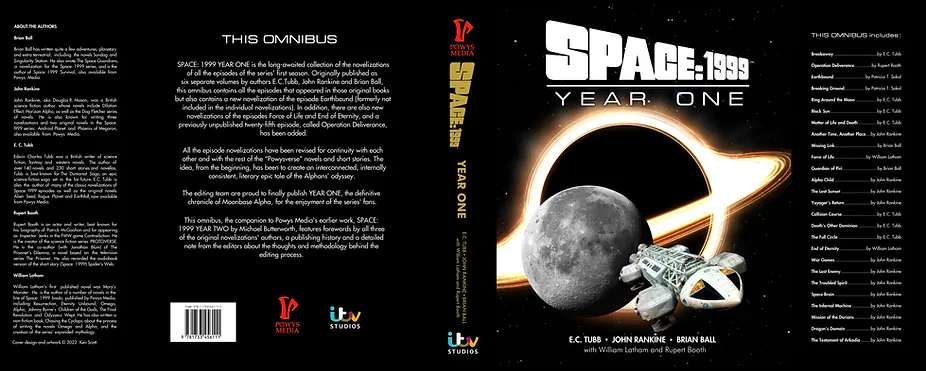 Mateo has plans for future original stories as well as other lines of work outside of the Space: 1999 universe. A huge thanks goes to Ken Scott for developing most of Powy's Media 1999 cover art. Please visit their website to purchase their Space: 1999 titles (to include a remaining copy of the Year 1 Omnibus).
www.powysmedia.com