Hardbound or paperback, even some electronic reader editions are accompanying the titles, here are the latest 1999 books you should have on your RADAR.
Powys Media Year One Omnibus: Space: 1999 Rides Again to the Masses and this time in paperback edition. Mateo Latosa, co-founder of Powys Media, pulled the trigger on producing the amazing licensed and official Year 1 Omnibus into paperback form and anyone now can order it via lulu.com print on demand company. And it's big!
We Space: 1999 fans are rather blessed and spoiled at the same time with many more choices than we had in the past. And we fans also paid a price on waiting for the Year One Omnibus for the better part of 15 years. In 2005 Powys Media produced the very popular Space: 1999 Year 2 Omnibus first. The natural question was when would the Year One edition be produced. Y2 came first because all six books were authored by one author and Michael Butterworth wanted to do the revisions himself. Y1 took a very long time due to other projects taking precedence.
Only 198 copies of the Y1 Omnibus were produced with the autograph pages from the three authors. Mateo saved the pages and had them incorporated into the books once he was ready for prime time. At $200 per copy was rather pricey, but well worth it due to its official exclusivity.
Fast forward to 2022 and Mr. Latosa decided to release this amazing book as a paperback. The book itself was essentially the same print as on the HB so its size is comparable to a book or manual you'd get from college. The PB edition is $75 plus shipping and well worth that if you decide to add this to your collection.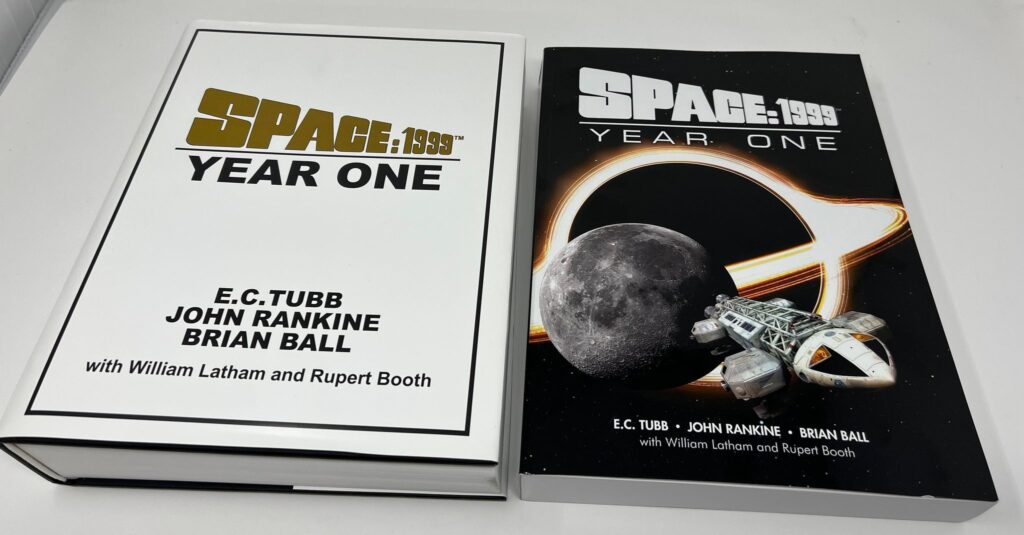 Believe it or not, the HB Y1 Omnibus is still available and ready to ship. Order your at powysmedia.com. All other Powys titles are available via lulu.com and search Space: 1999. Most novels are $20 + shipping and are printed on demand. Sorry, there are no kindle or electronic editions of these novels due to licensing.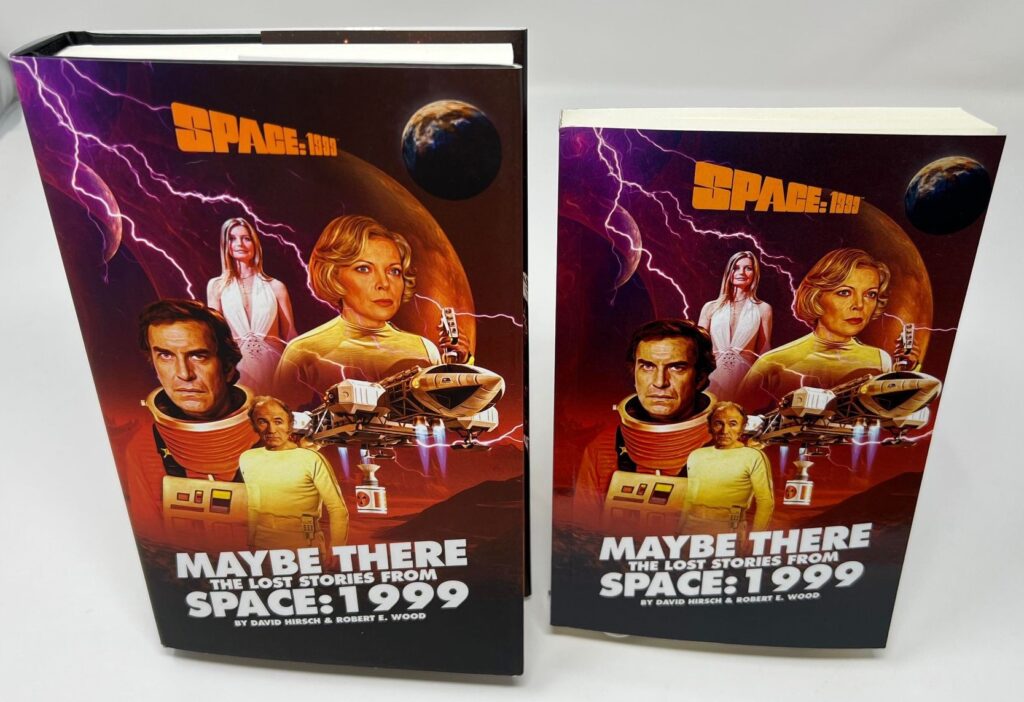 Available in limited quantities direct from the Official Gerry Anderson Store was the Maybe There – The Lost Stories from Space: 1999 book by David Hirsch and Robert E. Wood. Which took no time at all to sell out. Well, don't fret because you ain't seen noth'in yet. Here comes the PB edition for the populous available via Amazon and at a really good price (less than $10 and free shipping for Prime members). It is reported that a Kindle edition is on its way so "Stand By For Action". A recap: "Gathered here for the first time are the original stories written in the early days of production on the internationally acclaimed television series SPACE: 1999. Uncover the differences between Gerry and Sylvia Anderson's original story Zero G, George Bellak's first draft of The Void Ahead and Christopher Penfold's uncredited shooting script Turning Point. Each of these tales show the evolution of the pilot episode with scenes and characters that never made it to the screen.
Wonder at a tale that was NEVER filmed where the Alpha People, desperate to migrate to a new home, instigate a conflict between two alien races. Also included are Christopher Penfold's original storylines for Guardian of Piri and Dragon's Domain, an adaption of Keith Miles's early draft for All That Glisters and read how Art Wallace (Dark Shadows) originally envisioned the episode that became Matter of Life and Death. Discover how SPACE: 1999 might have been had they gone 'Maybe There?'"
Sorry, no color Keith Wilson artwork print, but it is included and in black/white. Also included are some Anderson ads at the end of the book promoting more of the store's library of Anderson titles. All good stuff.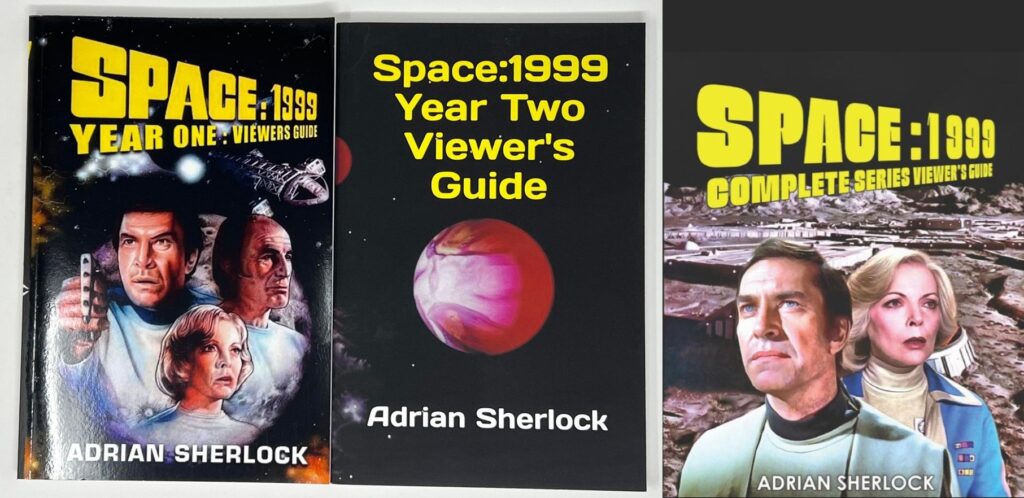 Lastly is the release of the unofficial and combined books of the Space: 1999 – A Viewer's Guide "Collector's Edition" in hardbound, paperback or Kindle edition by Adrian Sherlock. The Amazon recap: "Adrian Sherlock's Space:1999 Viewer's Guides for year one and year two of the series were previously published separately. Now this Special Collector's Edition presents both guides in one, with all 48 episodes from both seasons of Space:1999, reviewed, analyzed and rated, along with the short Message from Moon Base Alpha."
A little size comparison for you.
The Powys Media Year One book is available here: https://www.lulu.com/shop/patricia-t-sokol-and-rupert-booth-and-william-latham-and-brian-ball/space1999-year-one-paperback/paperback/product-2ykjq2.html?q=space+1999+omnibus&page=1&pageSize=4
Maybe There – The Lost Stories From Space: 1999 is available via Amazon here: https://amzn.to/3VYEuvy
Space: 1999 Viewer's Guide Collector's Edition is available via Amazon here: https://amzn.to/3IJyKmq
Both the books from Amazon are also available in the UK at amazon.co.uk
Make sure you visit the Catabombs: http://space1999.net