The latest offering from MPC models is arriving to your favorite hobby distributor very shortly, so get those pre orders in. In the meantime, check out how beautiful this build is.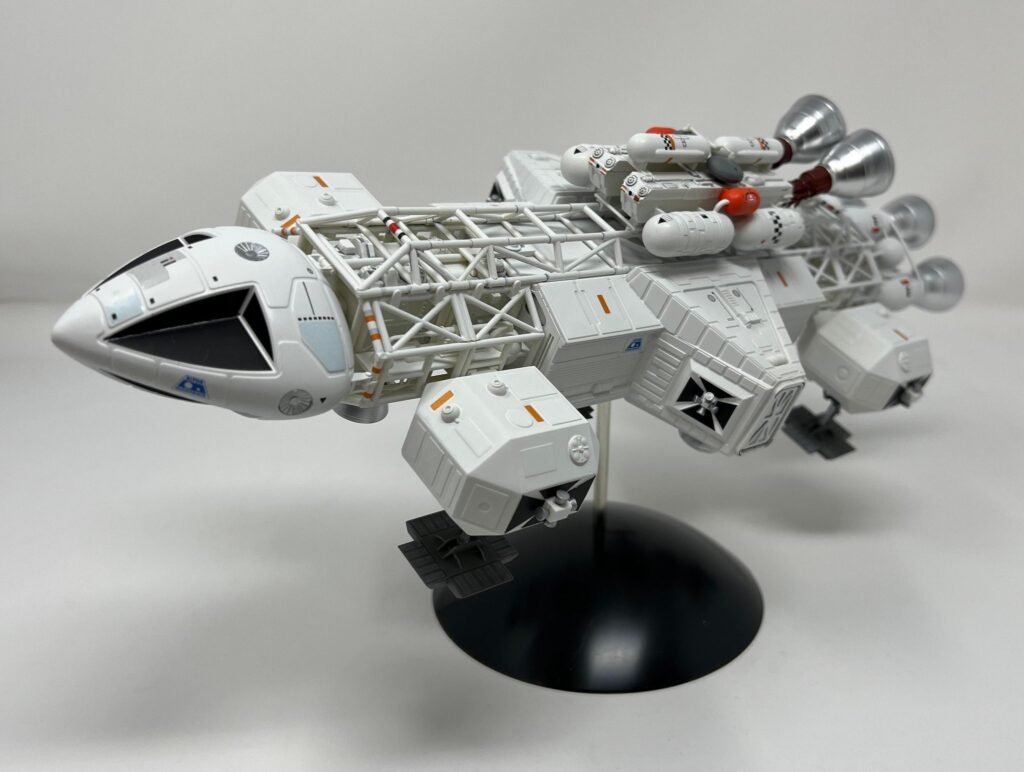 Harold Wholf Sr. was commissioned to build this exclusive Round2/MPC kit sample. I asked him to just build an "out of the box" build with no add on's, no modifications and not too weathered. For the first time at this scale and price-point (and accuracy), you have the opportunity to build your very own "Eagle 4″ (better known as the Metamorph Eagle). No need for pursuing an additional kit for the spine and no need to find space for this amazing 14" uber-accurate Eagle. Plus, it comes with its own "pose" stand. As you can see, it makes for great photos and a display of your favorite stance.
Mr. Wholf reported that this was a relatively easy and enjoyable build. As you review the photos, there were subtle changes done to the main body of the Eagle especially regarding the engines; MPC added on the thruster refrigerant pipe around the thrusters for that "Year 2" look.
He wasted no time with the paint and detail.
Eagle 4 will complement your Eagle Transporter build. The Eagle Transporter build is an out of the box straight kit build by Rick Robinson.
This is technically the fourth "Eagle 4″ installment from MPC. Referenced here are the 22″ kit with added aluminum, the 14″ kit and the classic 12″ Eagle kit. Note: the 12″ kit is highly modified and was only used to show size comparison. The 22″ and the 14″ kits were built by Harold. The 12″ classic kit was built by David Pearson. It was originally built as a standard Transporter, but he added on the lab pod and spine booster direct from the 2014 Deluxe Edition kit. As with the 22″ kit, the 14" kit pretty much makes the past kits obsolete. In addition, there were some detail corrections made on the 1/72 spine booster.
The included stand really makes for a great photo opp and a spectacular display in your collection.
So, get out there an order you a kit from your hobby center. The kit retails for $68.99. Perhaps the best price-point ever offered for this caliber of an Eagle 4. A huge thanks goes out to Harold Wholf Sr. for taking on the challenge to build this kit with dynamite results.